These are pretty and special ways to wrap your gifts by using coordinating wrapping papers, leftover wallpaper (or patterned paper) with craft paper and twine, adding some shine with clear cellophane, and using dishtowels as a wrap.
I'm joining some awesome women for their Creative Gift Wrapping Ideas with their links at the end of the post. Can wait to read them!
If you are visiting for the first time, welcome! After living in San Francisco for the past several years, we are settling into our new home in Jacksonville, Florida.
Special Ways To Wrap Your Gifts With Coordinating Wrapping Paper
Each year, I buy two wrapping papers that coordinate so that you can use a band over the other paper like this.
This way you can easily tape a band of one paper over the other for a little interest. I fold the sides of the bands underneath to create a softer look.
Note: There are some affiliate links at no extra charge to you. Thank you.
Using Clear Cellophane For Some Shine
If a gift is already pretty (like this Olive Oil from Puglia in a hand-made bottle, or a scented candle like this one) why not just embellish the natural beauty 🙂 with cellophane? And you don't have to find a box for it.
Where Do You Wrap Your Presents?
I like to sit on my office floor or my bedroom floor and watch holiday movies while I wrap.
Gift Wrap With Craft Paper, Twine, And A Patterned Paper Or Leftover Wallpaper
This Christmas Eve, I am setting the table with books wrapped in leftover paper from the powder room (hang on for that reveal–the powder room is almost finished).
It's an Icelandic tradition to give books for Christmas and I got the idea from Elizabeth at Pine Cones and Acorns.
I will take a cue from this wrapping and set the table in blue, white, and green. Our son-in-law, Luca is making Spaghetti Vongolé Christmas Eve. If you follow me on Instagram, you will see more!
Special Gift Wrap Using A Dish Towel
Using dish towels to wrap presents is like two gifts in one and is good for the environment. It looks like this one is sold out at World Market, but they have lots of cute inexpensive kitchen towels.
I often add a wooden spoon or spatula for fun.
Wrapping Essentials: In a hurry? Gift Wrapping Essentials used here are in my Amazon Shop... many items can be delivered the same day or the next day with Amazon Prime.
Shop The Post For Nice Gifts:

Check out these ladies' Creative Gift Wrap!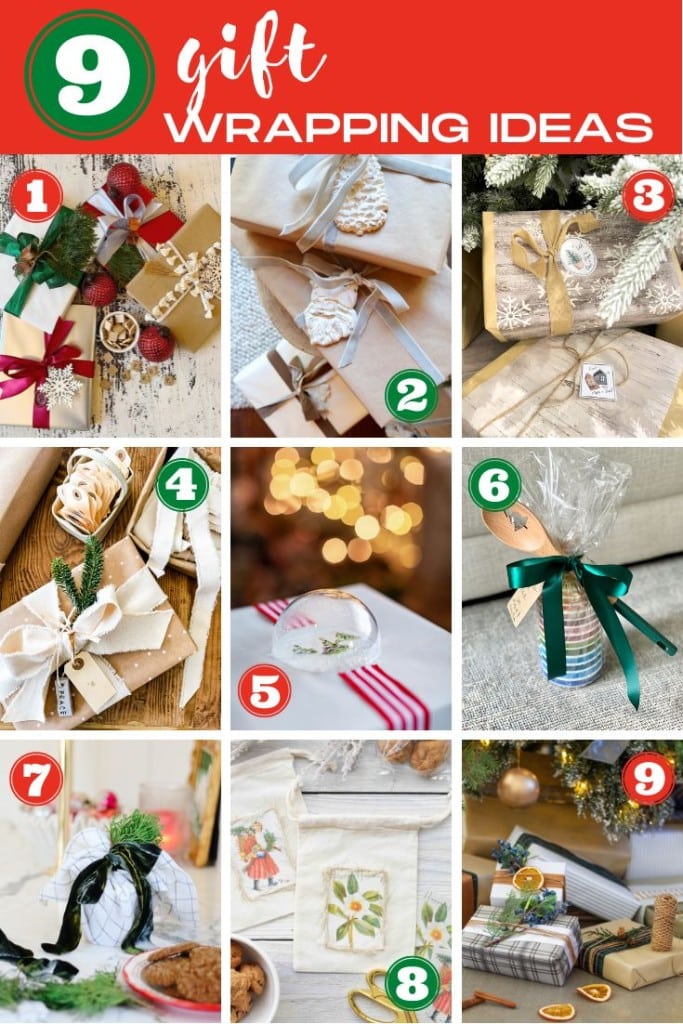 Blogger's Best Gift Wrapping Ideas
Pin this so that you will have the ideas again for next year…